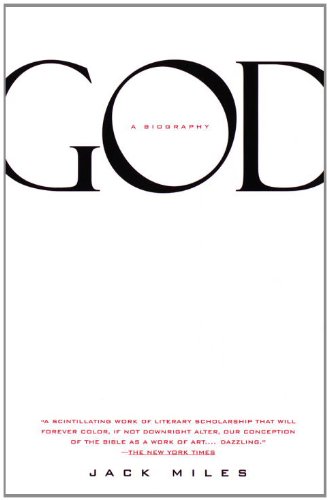 366. Title: God A Biography
Author: Miles, Jack
ISBN-10: 0-679-41833-4
ISBN-13:
Date Finished: 2021-09-05
My Comments: The Bible, read as the biography of God. Miles uses the Tahakh order, rather than the Old Testament in order to build his story from an ignorant activist to silent Ancient of Days white haired old man on a distant throne. God speaks, and things happen. Then, in Job, God stops speaking and acts as in Waiting for Godot, by being talked about. Eventually he fades almost to nothing. But the story is very well written, often using very big words and long sentences that are great works of art even if difficult to understand. I tried this years ago and didn't get very far. This time I was successful. If you make it through, you will know both the Bible and many faces of God better. Worth the effort?

Amazon Description: What sort of "person" is God? What is his "life story"? Is it possible to approach him not as an object of religious reverence, but as the protagonist of the world's greatest book—as a character who possesses all the depths, contradictions, and abiguities of a Hamlet? This is the task that Jack Miles—a former Jesuit trained in religious studies and Near Eastern languages—accomplishes with such brilliance and originality in God: A Biography. Using the Hebrew Bible as his text, Miles shows us a God who evolves through his relationship with man, the image who in time becomes his rival. Here is the Creator who nearly destroys his chief creation; the bloodthirsty warrior and the protector of the downtrodden; the lawless law-giver; the scourge and the penitent. Profoundly learned, stylishly written, the resulting work illuminates God and man alike and returns us to the Bible with a sense of discovery and wonder.